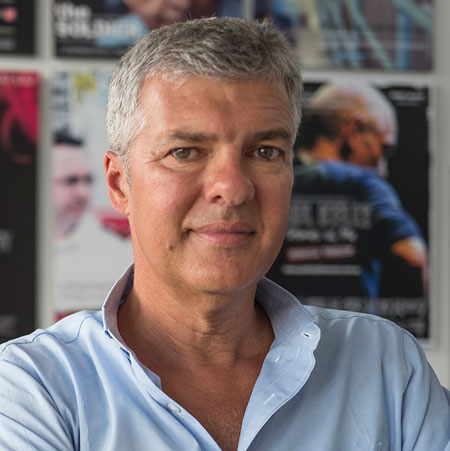 Ian Darling is the Director and Producer of THE FINAL QUARTER. He is an award-winning documentary filmmaker and Executive Director of Shark Island Institute in Sydney.
His Director and Producer credits include Paul Kelly – Stories of Me, The Oasis, Suzy & the Simple Man, In the Company of Actors, Alone Across Australia, Woodstock for Capitalists, Polly & Me, and The Soldier. He was an executive producer of 2040, The Fourth Estate, The Bleeding Edge, Unrest, Inventing Tomorrow and How to Change the World.
He was Founder Documentary Australia Foundation and Good Pitch Australia, and is working with 19 social impact documentaries, including: That Sugar Film, Gayby Baby, The Hunting Ground, Prison Songs, Frackman, The Opposition, Whiteley, Ghosthunter and Blue.
Ian Darling received the Byron Kennedy Award at the 2018 AACTA Awards. He received the AFI/AACTA Award for Best Direction in a Documentary for The Oasis, is a Walkley Awards Finalist, and has been nominated for numerous Australian Directors Guild, AFI, Film Critics and IF awards. He was named Australia's Leading Philanthropist by Philanthropy Australia in 2017. He is a recipient of the Creative Partnerships Australia Business Leadership Award, and his homeless film project The Oasis was named one of 'Australia's Top 50 Philanthropic Gifts of All Time.'
THE TEAM