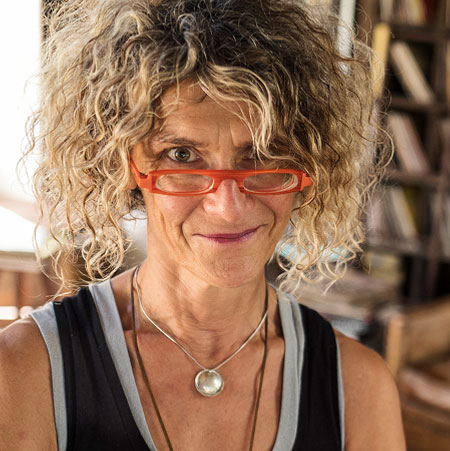 Sally Fryer (ASE) is Senior Editor at Shark Island Institute. She was a founding Director of the Documentary Australia Foundation, and a Co-Producer of three Good Pitch Australia events.
She has 30 years experience as a film editor both in London and Sydney. She has edited over 100 documentaries during her career and is still as passionate as ever about her craft.
She has recently finished THE FINAL QUARTER with Ian Darling.
From 2014 to 2016 she enjoyed being a little more out of the cutting room than in, as she co-produced Good Pitch Australia, and loved working with the 19 teams of filmmakers whose powerful documentaries were chosen and guided through the Good Pitch process. Sally is very happy to find herself solidly in the realm of social impact documentary filmmaking.
In 2011 she gained accreditation from the Australian Screen Editor's Guild, and in 2012 was awarded an 'Ellie' by the Guild for 'Best Editing in a Documentary Feature' for the film PAUL KELLY – STORIES OF ME.
In 2008 Sally won the AFI Award for 'Best Editing in a Documentary' for THE OASIS – shot over two years about a group of kids who lived on the streets of inner Sydney.
Sally and Ian Darling have been making films together since 2001. Their first film was WOODSTOCK FOR CAPITALISTS, that won several awards including a Cine Golden Eagle Award. Their second film was ALONE ACROSS AUSTRALIA – Winner of 32 international film festivals and voted 'one of the top 20 adventure films of all time' by Men's Journal Magazine, USA.
Her work has twice been nominated for an Emmy award and many years ago, WATERGATE, made for the BBC, won the International Emmy for 'Best Documentary Series'.
Sally is the very proud mother of two delicious boys, Louie and Thommo, and two dogs, Hiccup and Smudge. Swimming and long walks help to keep her sane.
THE TEAM